Wirestock: Adobe Stock Exclusive, Instant Pay & Extra Channels
This is a part of my series about Wirestock.io. In this article we look at the option to submit to Adobe Stock Exclusive and see it is worth it as a stock contributor. We will also dive a bit deeper into the Wirestock Programs, InstaPay and Extra Channels.
This is a part of my series about Wirestock.io. In this article we look at the option to submit to Adobe Stock Exclusive and see it is worth it as a stock contributor. We will also dive a bit deeper into the Wirestock Programs, Instant Pay and Extra Channels.
If you are not familiar with Wirestock.io then I recommend reading What is Wirestock and How Does It Work? or watching my Wirestock Overview Video, a pretty in depth look at wirestock in its own right, before reading this article.
Okay so first a quick recap:
First a Quick Wirestock Recap
Wirestock.io is an online stock agency / aggregator where contributors upload assets in the form of images, videos and vector files to the Wirestock.io platform as well as for distribution across multiple stock agencies. 
Wirestock.io also promises to speed up workflow by handling keywording, titles and description.
Wirestock.io is free to use and they take a 15% commision of the royalties you earn from assets submitted through its three main channels. 
Although with the case of any Wirestock.io "direct sales" made on its own platform, Wirestock will take a 30% commission. 
What is Adobe Exclusive Through Wirestock?
Okay with that out of the way I wanted to dive a bit deeper on a few things. Starting with the option to submit to Adobe Exclusive on Wirestock.io and is it worth it?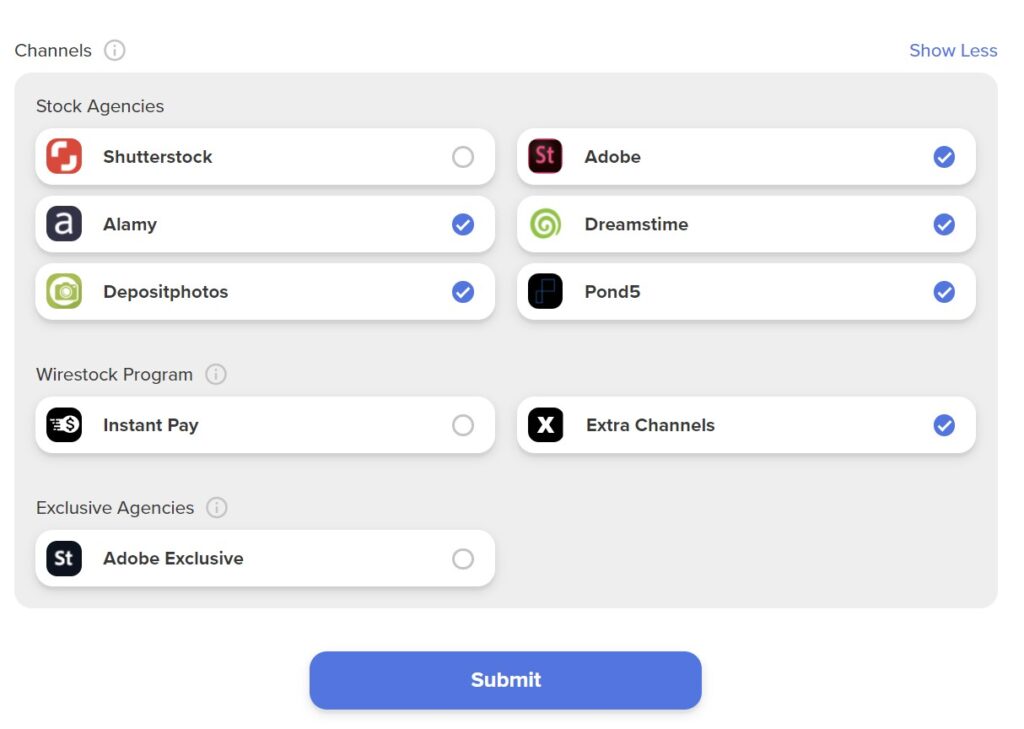 When your ready to submit an image on wirestock you have the option to submit your image as Adobe Exclusive. Selecting Adobe Exclusive removes all other selected agencies including selections made for the Wirestock Program.
The bonus for going exclusive with Adobe Stock is a 40% commission for images submitted through Wirestock.io that are sold through the program.
The reality is that this is only slightly higher than the normal 33% commision than you would get through a regular Adobe Stock non exclusive submission.
Of course a big downside is that submitting exclusive means you can not submit the same images ANYWHERE else!
This might be a good strategy if you were earning a larger commission of say 60% or more. Or maybe in the case you have really niche assets that you know already sell really well on that platform.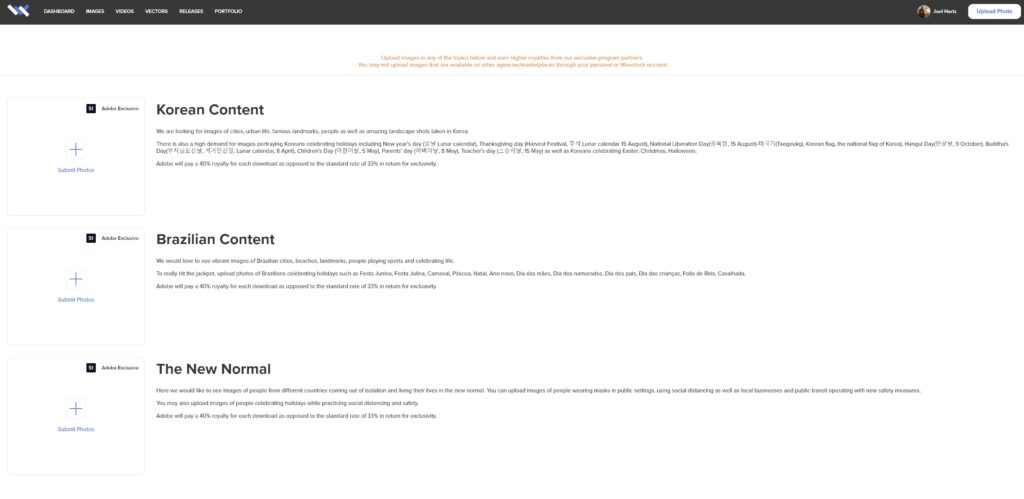 Before you plan on submitting you will want to look at the https://wirestock.io/exclusive page to see what categories they are currently paying that extra 7% commission for.
One big issue is that Wirestocks Adobe Exclusive has very limited categories of subjects you can even submit to. The categories change frequently in what looks to be every month or two.
One nice thing is that you can also submit your images directly from the exclusive page or through the regular submission process.
Is Adobe Exclusive Worth Submitting to Through Wirestock?
Personally it does not seem worth submitting to the Adobe Exclusive through Wirestock for such a small additional commission. You are far more likely to earn greater income from those same images if placed on multiple different stock agencies than from a mere 7% bump in commission for the exclusivity.
What is the Wirestock Instant Pay Program?
Instant Pay Program
Wirestock.io Partners with several other platforms that essentially licenses your content to those other platforms for a one time fee. Wirestocks FAQ states the following:
"The Instant Pay program partners with several platforms who pay for content in advance on a one time basis, as opposed to paying per download."

Wirestock FAQ
I searched the Wirestock.io FAQ's and Blog posts to find out more about the Instant Pay Program. I wanted to know who are partnering with? What are the term lengths for accepted content? 

In the only info I could find about who these Instant Pay Partners were was a mention of Freepik. So I reached out to Wirestock.io directly to see if I could get a little more info and they confirmed that 
"as of now our main instant pay partners have been Adobe Stock, Shutterstock, and Freepik."

Wirestock
When I asked about the term length for accepted Instant Pay (IP) content they replied
"The term lengths for the IP [Instant Pay] program have been set for up to two years in some cases, also unlimited lengths such as the case with Freepik."

Wirestock
In summary: Once the Instant Pay Program content is purchased by the IPP partners, buyers, they can distribute your content across their platforms which may be in their own projects, resold as a part of their pricing structure or for FREE for the term of their license.
Instant Pay – Adobe Stock One year Term
If you're not familiar with what Adobe Stock did in the summer of 2021, they offered flat fee payouts to certain eligible contributors. Wirestock's Instant Pay Program was also contributing to this as well.
The flat fee payout consisted of a one year buyout to those eligible contributors in order to add images to AdobeStock's "Free" images library.
Instant Pay – Shutterstock 2 year term
Based on Wirestock.io's response to my question about Instant Pay license terms one could deduce that images licensed by Shutterstock through the IPP may have been for a term of 2 years.
Instant Pay – Forever with Freepik
In the case of Freepik, you're looking at an "unlimited term". That is forever, like in perpetuity.
This is likely a really bad idea if you are seriously interested in stock photography as a long term investment or as a passive income source.
Should You Submit to Wirestocks Instant Pay Program?
When you submit your images to the Wirestock.io Instant Pay Program not every image will be selected, meaning that only your best commercially viable images will be selected for the program. 
That means your best images tied up for 1 -2 years on Adobe Stock or Shutterstock's Free images offerings or worse yet placed on Freepik forever.
Wirestock.io negotiated rates of around $4 – 5 (gross) per image selected for IPP. Depending on which agency buys your images, this is likely to cannibalize sales of those same images on other sites as well. 
And worst of all, any images that get on Freepiks website are nearly guaranteed to cannibalize your sales of the same or similar images on all of your other agencies, forever. The micorstock forums are rife with anecdotal examples of this.
Finally you have zero control over which IPP partners Wirestock.io is submitting your images to, unlike your choice of agencies to submit to normally. With this choice available I would actually be interested in the Instant Pay Program. I can think of certain images or scenarios that I may participate.
So, Do You Think it is Worth Submitting to the Instant Pay Program?
Personally in the programs current state, I can only see this as an option for really low value images. Perhaps images that are really unlikely to ever sell. But even with that, how likely is it that those will even be chosen if submitted to the Instant Pay Program?
How Exactly are the Wirestock Instant Pay Program and Extra Channels Different?
From what I understand the Extra Channels partners license images for use directly on their own platforms or in their projects. But unlike the Instant Pay Program, Extra Channels partners can not redistribute any licensed assets from Wirestock. Here was the response from Wirestock.io when I asked about this…
"Through Instant pay the buyer, aka the other party can distribute it through their platforms according to their pricing model. But in case of Extra Channels, the other party cannot distribute the content. They can only be used for their project."

Wirestock
What is Wirestock Extra Channels?
From Wirestock.io FAQ
"Extra Channels provides you with additional opportunities to make money with your content. We constantly seek new partnerships with brands, stock photo agencies, print-on demand marketplaces, API integrations and other platforms to expand the market for our creators and maximise sales for every image uploaded to Wirestock."

Wirestock FAQ
It seems that Wirestock.io is continuously looking for new companies to partner with via its extra channels. In the past they have partnered with Canva, 123RF, and Science Photo Library. In fact they may still be partnered with some or all of those, but they don't make that information very clear, which is irritating.
If you choose to offer your content through the extra channels Wirestock.io will internally choose which images they want to offer to each "extra channels" partner. 
I also  asked Wirestock.io "Will I know to whom and where my Instant Pay or Extra Channels content has been licensed to?" Wirestock.io response was:
"It's not available at the moment, however, we do share information with anyone eager to know."

Wirestock
That's at least something I guess.
And when I asked "Can you remove your content from the Instant Pay program or extra channels after it has been licensed?" Wirestock.io responded:
" Images can get removed from the IP [Instant Pay] program if needed be."

Wirestock
Should you submit to Wirestock's Extra Channels?
The question of whether or not you should submit your assets to Wirestock's Extra Channels program is up to you. In my opinion it seems that the Extra channels may be an option for additional sales that I would feel more comfortable with than the current Instant Pay program.
How I would like to See the Wirestock Program Improved
I really do like that Wirestock.io is actively looking for new opportunities for its contributors. I would just prefer to see more transparency with the Wirestock.io programs like Instant Pay and Extra Channels.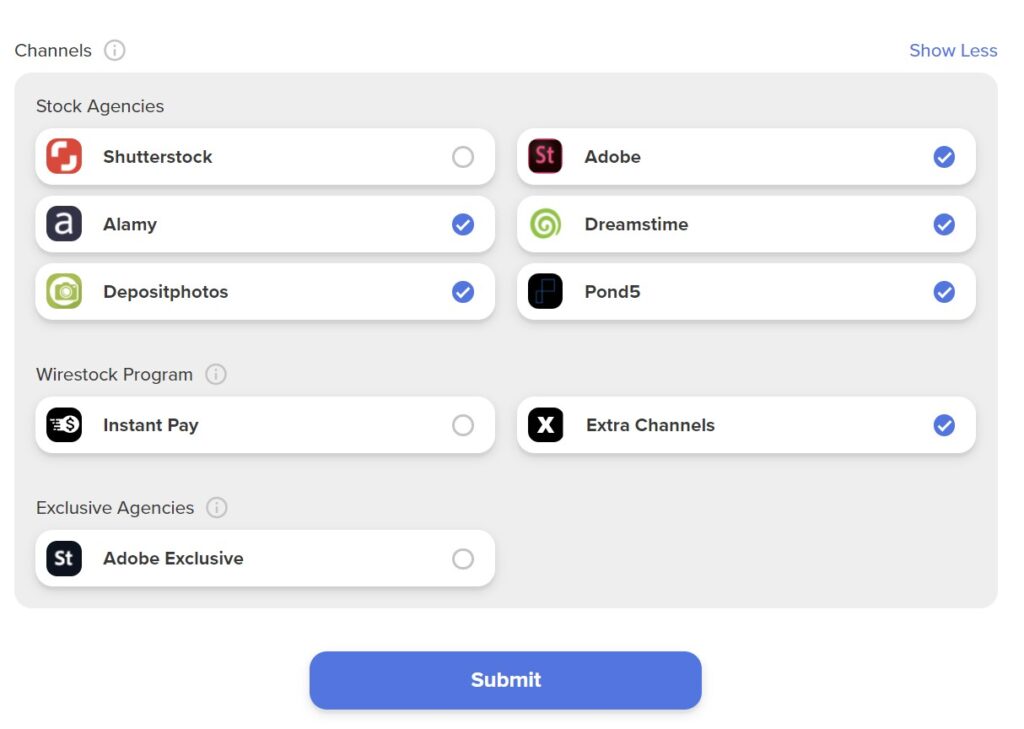 I would like to see Wirestock.io give contributors the license terms and Partner information for the Instant Pay and Extra Channels programs. Additionally I would like the option to select which of those partners we want to submit to, just like with the other stock agencies. 
If I missed anything about the Adobe Exclusive, Instant Pay or Extra Channels Programs on Wirestock.io or if you have any further questions let me know in the comments. I will try to address your comments and questions in the next article in this series. 
Start Contributing to Wirestock
If you learned something from this free article and are interested in being a contributor to Wirestock.io then say thank you by using my Referal code in the description.
I'll get a referral commission that comes out of Wirestock.io 15% cut so it won't affect your earnings.
I Want to Hear From You
Let me know where you are in your stock photography journey in the comments. I hope this provides some insights or even some inspiration that can help you develop your own income stream with Stock Photography.
You can follow along on my socials, subscribe to my YouTube channel and check back here for more insights from my stock photography journey including income reports and more.
If you are just starting your journey then do me a favor and use my links if you found this free advice helpful. It is an easy no cost way to say thanks! Or you can also Buy me a Beer!
Cheers,
Joel
In this article I will go over my income from stock photography and video sales for the month of March 2022 as well as share thoughts about my journey.

Welcome to my February monthly earnings article!

It's a new year and time for a new set of Stock Photography and Video earnings reports.