Exploring Ireland for the first time – Part 2: County Clare
A visit to County Clare, the Cliffs of Moher, Bunratty Castle, and Dromoland Castle are in order
Day 3 Leaving Galway & Exploring County Cork
I awoke bright and early to an incredibly beautiful day in Galway. I was ready to begin exploring more of Ireland. After another excellent Irish Breakfast (buffet style) in a room off of the Jury Inn hotel lobby we were on our way. Having navigated out of the hotel parking without damaging the car, or anything else, we explored the surrounding area.
We drove towards Salt Hill passing South Park, a huge… well… park, home to football (soccer) fields. First stop of today's journey was at Black Rock Beach.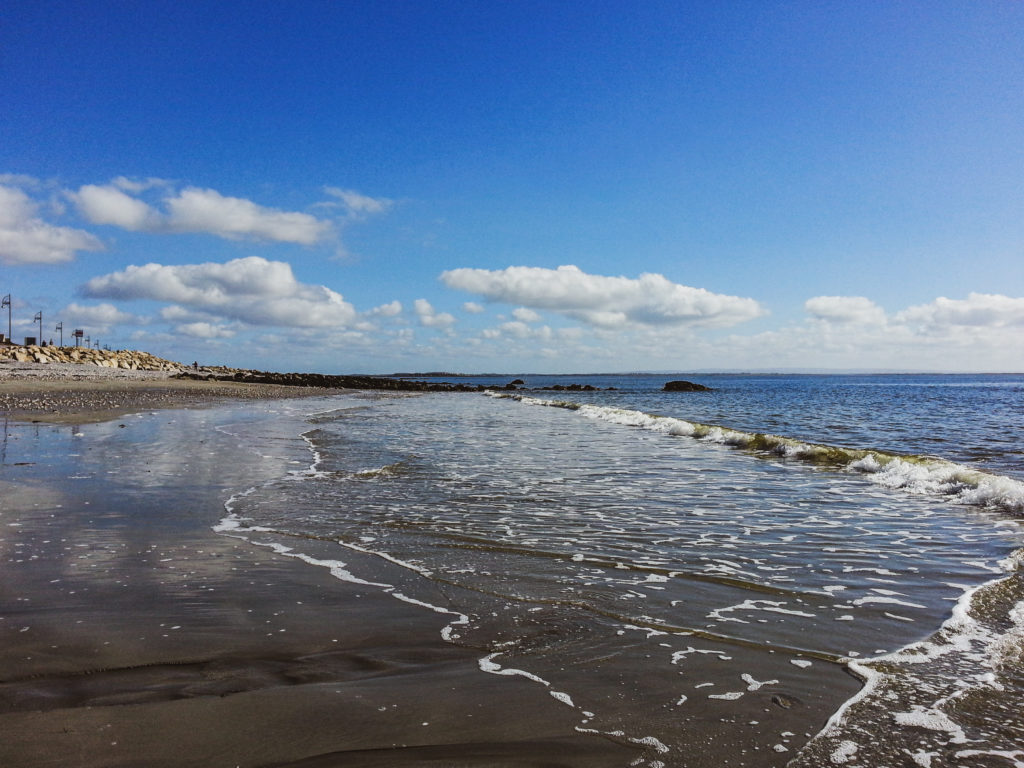 The weather could not have been any better. We watched as people jumped off the platform and swam in the cold waters of the bay while others like ourselves walked the beach and basked in the warmth of the sun on the concrete steps.
With amazing clear blue skies we left Galway and rounded Galway Bay en route to see the Cliffs of Moher, I only wish we had more time to spend in Galway having only scratched the surface of this vibrant and beautiful town. 
We traveled along the narrow, and I mean narrow, windy country roads of County Clare, hugging the left side as close as we dared. The roadsides seemed to either all be lined with rock walls likely removed from the fields beyond or a thicket of brush and hedges just a couple feet past the pavement. 
There were a few heart pounding moments as a oncoming truck or a bus would pass by but soon we found ourselves in more open areas.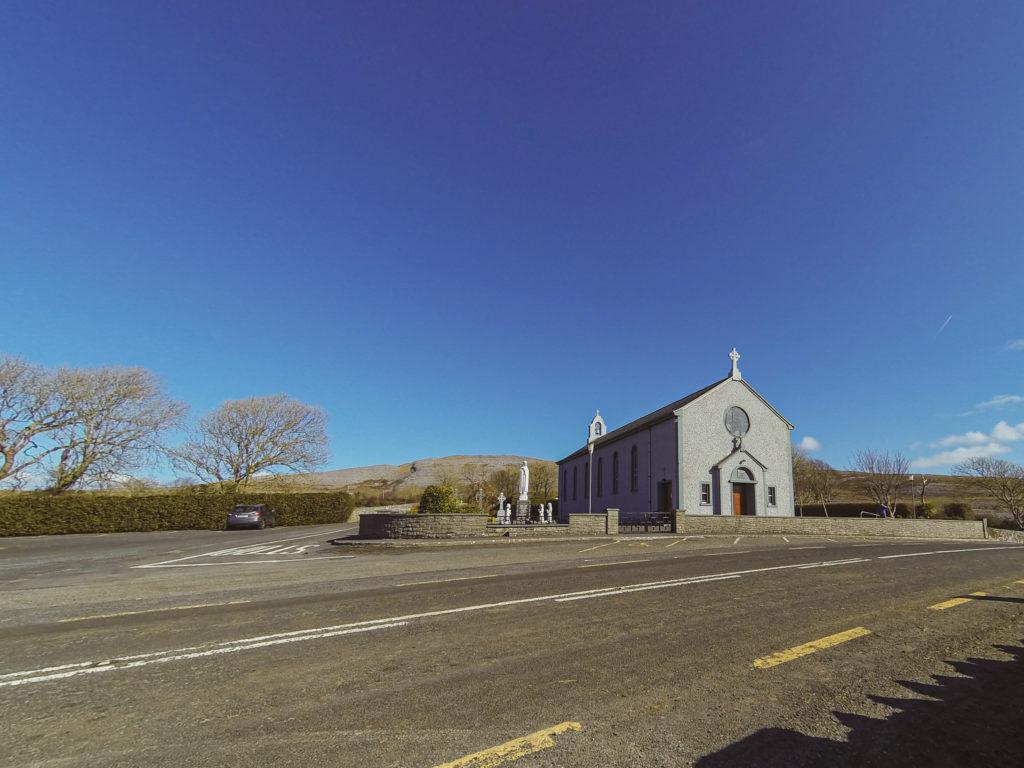 Our route along Ireland's Western coastline, known as the Wild Atlantic Way, had us exploring the scenery along R477. We made a few stops to take in the rugged beauty before we made our way to the Doolin Cave only to find it still closed and had not yet opened for the season.
Next we found our way to a small restaurant in Doolin that at first we thought was closed. It turned out that we were McDermott's Pub's first customers of the season as they had only just reopened that morning. Lucky us!
As we continued our exploration of Ireland onward toward the Cliffs of Moher we found multiple photo opportunity's including Doonagore Castle. The view was incredible and another place I wish we had allotted more time to explore.
Alas we performed the difficult task to restrain ourselves from stopping every few minutes so that we might have more time at the cliffs. In retrospect I would love to revisit County Clare as in our rush we only scratched the surface of what treasures it offers to explorers and intrepid travelers.
A short while later we had finally made it to the Cliffs of Moher parking lot. At first we were not entirely sure we were really there as land sloped up (west) towards the cliff's edge, which is hidden from view. We made our way past the subterranean shops and visitors center built into the hillside in order to minimize the visual impact on the beauty of the land.
 I love that concept and wish more places would consider this.
A short walk further and we had our first glimpse of The cliffs of Moher, and sight to see indeed! I had not truly grasped just how high up they were as pictures do not do them justice. Luckily for us it was the perfect day we could ever have asked for to visit this rugged and usually wind raved coastline.
350 million years old

702 ft cliffs at highest point

5 miles long

Over 20 species of seabirds can be found here

County Clare, Ireland
The sky was clear and there was only a light breeze at the cliff's edge. The sun nearly at its journey's end for the day began its final descent into the wild Atlantic. We felt confident enough to ignore the safety warnings and tread past the rock wall and onto a large rocky area at the cliff's edge. I would not recommend this!
I won't lie, I was really scared the closer I came to the edge, the sheer gravity (no pun intended) of how high and vertical the cliff face was, became abundantly clear to me. It nearly paralyzed me. 
I literally got down on hands and knees and crawled slowly toward the edge. Five or maybe six feet away still I could not move any further forward. I then laid as flat as I could on my belly, nearly kissing the rock, in order to scoot the final few feet to get this shot with my GoPro.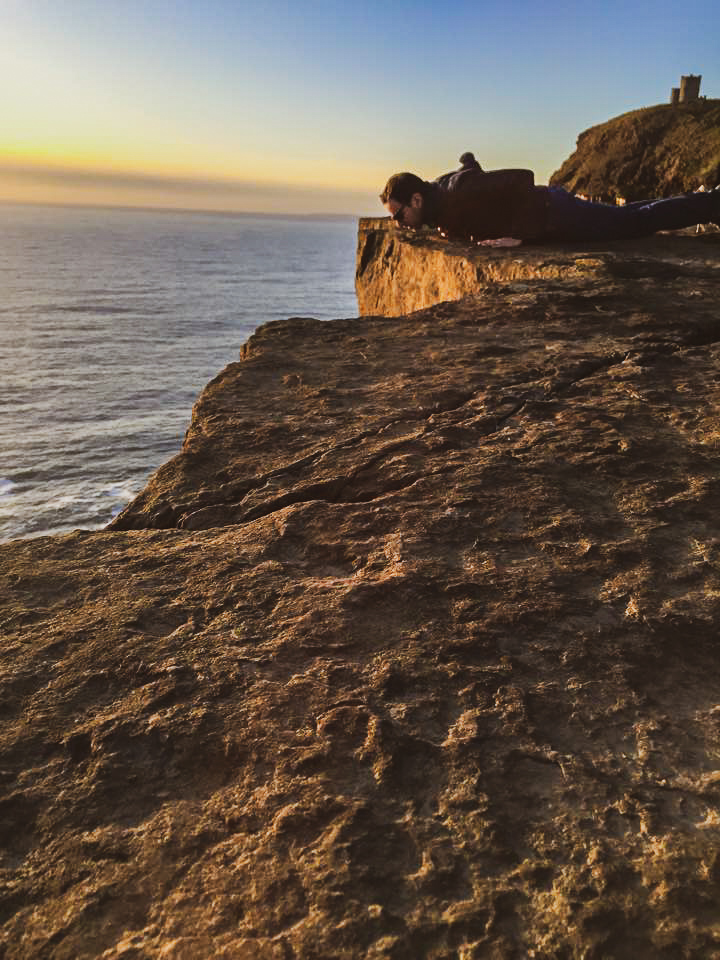 While on my stomach and with my head just far enough over the edge for my eyes to see the crashing waves nearly 700 ft below , I felt vertigo for the first time in my life. 
That was it, I turned over, grabbed my shot and got the hell back to safety!
We explored the cliffs edge along a path that is known as the Burren Way. It stretches nearly 5 miles starting North in Doolin and makes its way along the cliffs edge for the majority of the trail ending South in Liscannor. 
The portion of the Burren Way near the visitors center has a rock wall for most of its distance. I would suggest staying on this path and not taking any risks by the cliff's edge as many others have had misfortune, especially on windy and wet days where your footing can easily give way. There is even a plaque memorializing those that have lost their lives which serves as a reminder.
After watching the sunset from the cliffs edge we made our way to our hotel for the night, the 16th century (rebuilt in the early 19th century) Drumonland Castle! This is an expensive and exquisite hotel and grounds. Stay in castle checked off my bucketlist! 
An hours drive from the Cliffs of Moher we arrived shortly after dark and as such the grounds of Drumoland Castle were hidden in the night. James treated us all to an incredible meal at the Earl of Thumond restaurant and after an Irish whisky or two at the cocktail bar I retired to our room. The perfect ending to such an amazing day!
After morning breakfast I managed a quick workout in the well equipped fitness center and then explored the grounds on foot. At 450 acres including an 18 hole golf course, horseback riding, clay shooting, falconry, and an archery range, the grounds are quite impressive! Needless to say I was not able to cover the entirety in my morning walk. This was an incredibly special treat.
Sooner than I would prefer our stay had ended and we loaded into the car and headed to our next stop on our way to Killarney.
Bunratty Castle and Folk Park
Along the route south and east to Killarney we made a stop at my request, to visit Bunratty Castle and Folk Park. With 26 acres of trails, gardens, and a Castle I had a blast here and I am pretty sure James and MIranda's son Canyon did as well! It is definitely geared a bit more towards families but I found it really intriguing to visit the examples of traditional Irish homes and life of the 19th century.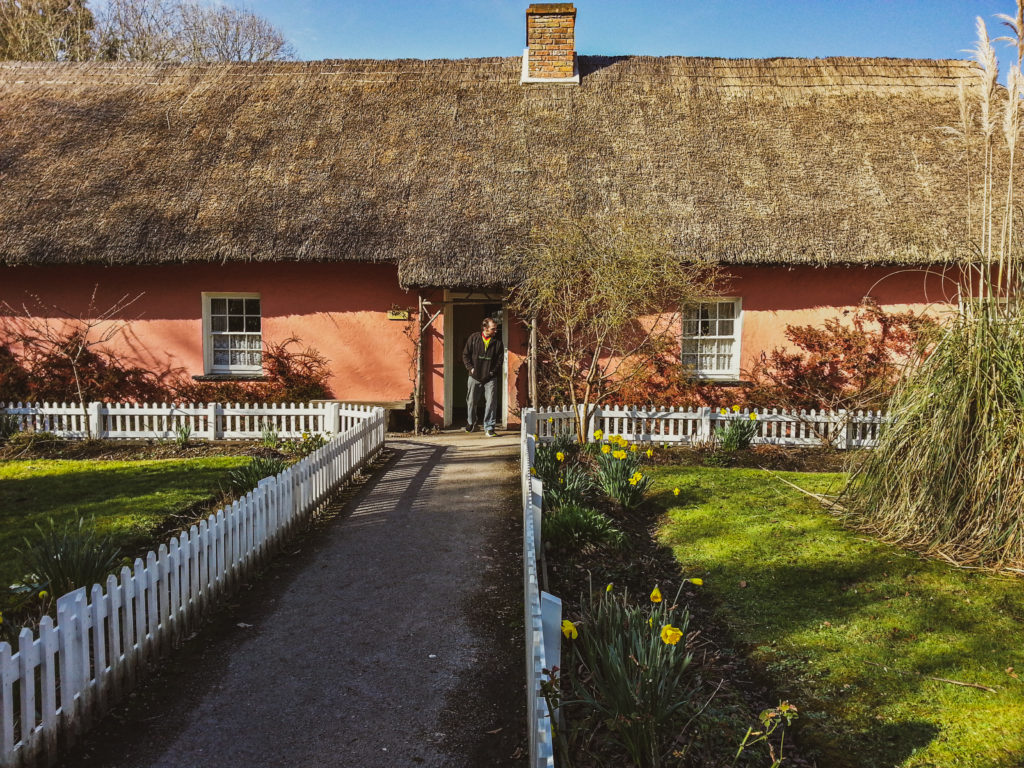 Bunratty castle was so cool! The kid in me came out as I explored the castle and its barbaric defenses like murder holes! It is considered the "most complete and authentic castle in Ireland " and definitely fits my idea of an 15th century castle!
Originally occupied in 970 AD  by vikings, the current castle is the fourth to occupy the site.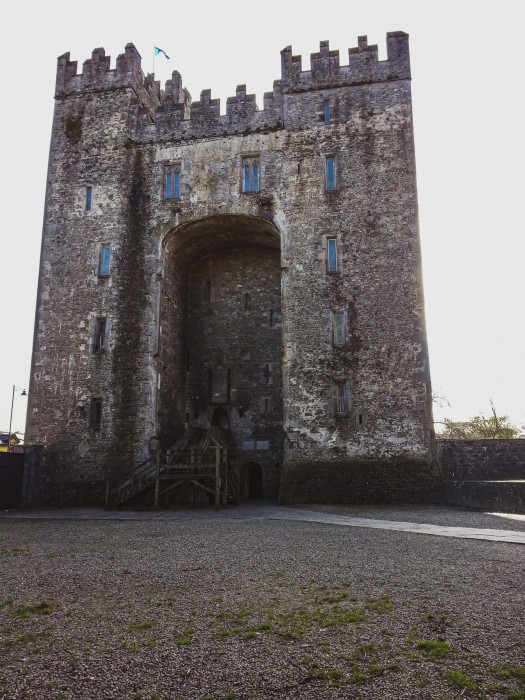 The remainder of our trip to Killarney was an easy hour and a half drive. We found the Evinston House Hotel, our accommodations for the night, easy enough although the parking was an issue again. 
Making our way into the parking area meant navigating an alley that we nearly did not fit through! I got out and had to marshal James in when no other cars were attempting the same one way passage. Having folded in the car's mirrors we still only had a few inches to spare on either side!
Once Settled in our rooms, we found a plethora of dining options within a block of our hotel. Tonight was for relaxing and so I wandered the streets of Killarney soliciting several pubs in search of a new favorite Irish whiskey. 
I needed not wander too far, in fact in the Danny Mann Inn Pub & Restaurant adjacent to our hotel I discovered the Yellow Spot & Green Spot whiskeys. Wow! I discovered that Single pot still whiskeys are definitely my favorite and these two were fantastic indeed. 
Not to short myself on trying new beverages nor experience I continued to pop in for drinks at a couple other watering holes including a hole in the wall on High street called Corkerry's. 
I had definitely found where a few of the locals hang out, literally as this place is tiny! I stayed for two pints and even more curious glances before retiring due to our early departure in the morning. Tomorrow was to be another big day!