Exploring Ireland for the first time – Part 1
Exploring Ireland for the first time by car with only 7 days.
An Invitation I Could Not Refuse
My first visit exploring Ireland came about while on a call with my friend James. It was 2015 and we had been working on an indie film together. We were in a lull during our extended production schedule (a very long production, spanning a few years). 
It was the end of January and James declared he was going to Ireland for St. Patrick's day with his family and bringing his father in law, David, along as a special treat and that I should come along and explore with them. 
I don't think he truly expected me to actually go but I saw it as an opportunity and I took it to heart. 
I immediately said yes, that's a great idea! After running it by my wife Michelle, it was a go, officially that is.
Ireland had been on my list of places to explore for some time. Between reading about Ireland for years and being a fan of Irish cinema, it was the invitation I could not refuse.
My wife Michelle had even lived there for a summer a few years before we met with her friend. Hearing her wax on about her love for the green isle made this an easy decision.  
The next week after my call with James and the blessing on my wife, I had booked my flight on Aer Lingus.
James and I had decided that since I was traveling with his family it would worked out that David and I would be roomies. I offered to take care of David and my hotel nights in Galway and Killarney and James would handle our nights in Dublin and a special hotel just north of Shannon.
So I hopped on Hotels.com, my go to site for booking travel on all of the projects I produce, to lock down the accommodations I was responsible for. 
James had put together a driving route that would have us tour most of the Island in 6 days. An ambitious plan indeed. He was determined to travel by car in order for us to cover more ground and I am glad he did.
Tip: They drive on the left side of the road there and so if you rent a car in Ireland (and you're from the U.S.) you will have to get insurance in the county, your car rental company will offer it, but expect it to be as much as the car rental itself.
March came quickly, I was crazy busy with work and still "Just" managed to get packed, at the last minute of course. One HUGE regret I had was not bringing my DSLR camera!
What photographer/filmmaker doesn't bring a quality camera?
That would be me, and my decision would come back to haunt me. My reasoning at the time was due to the limited luggage space of the rental cars in Ireland, they are not like in the states. An SUV in Ireland is more like a crossover in the U.S. and when you pack 4 adults and a child into one, there is barely any room left for all of that luggage.
Still, I ended up packing too much! 
Tennessee to Dublin, Day 1
Departing Nashville, Tennessee at 9:49am our flight took us through Chicago with a nearly six hour layover in Chicago O'Hare. Honestly I have no recollection of what I did for 6 hours but James and family stored their luggage and made the most of it exploring Chicago. We departed overnight for Dublin at 7:19pm and I promptly fell asleep.
I awoke to the announcement that we were landing 30 minutes early the next morning. After we deplaned we wasted no time clearing customs, grabbing our bags and picking up the rental car. We made our way into the heart of Dublin to the Blooms hotel in Temple Bar, which would serve as our hotel for our first and last nights in Ireland.
The early landing and an easy drive into Dublin had us arriving a bit too early to check in our hotel, so we stored our luggage with the front desk and searched for food. We were all getting a bit hangry, myself especially.
James's wife, Miranda, had found what turned out to be a great little restaurant a block and a half north called the Elephant & Castle, sitting on the corner of Fleet Street & Asdill's Row.
After breakfast and with some time still before check in we made use of our time and began to wander the streets. We came across the interactive history museum Dublinia which ended up being pretty fun to go though. Canyon, James and Miranda's boy, really enjoyed it almost as much as myself. I loved learning about the history of Dublin but I would really need to come back over several days to fully take it all in. I mean we are talking about a LOT of history here.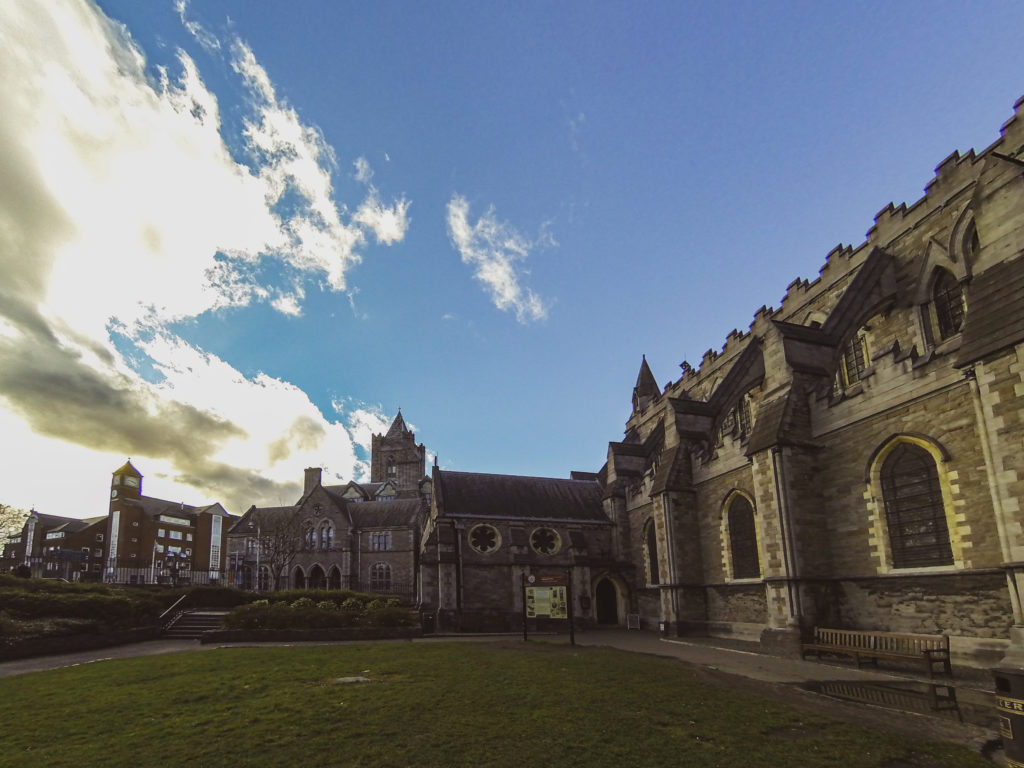 Across the street is Christ Church Cathedral, which honestly we noticed first. We enjoyed going through the breathtaking beautiful church that has been the star of many movies and TV shows including The Tudors. 
Again, don't only bring your action camera on a trip like this… as you can see from my pictures. I shot them on a GoPro Hero 3 Black. GoPro's are good at action not stills.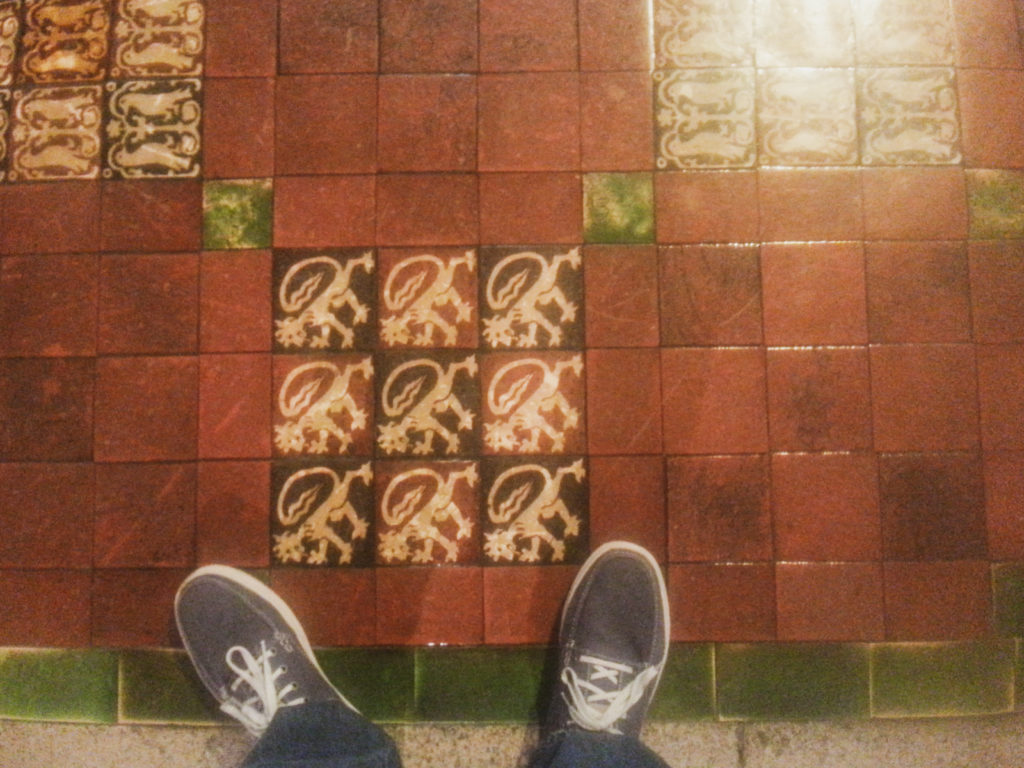 After wandering about for the next few hours we made it back to the Bloom Hotel and managed to get checked into our rooms and I took a much needed nap. That evening we kept it simple and visited the Vat house Bar which connects to the Blooms Hotel for some whiskey & dinner. We found a nice snug just off the bar and I proceeded to try several whiskeys, all of which you can only find in Ireland. The dinner was good and we retired early as we had a long day ahead.
Day 2 in Ireland: North then West
Morning came too soon and we found ourselves once again packed back into the car and headed North out of town in search of Breakfast along our route to our first planned stop at Brú na Bóinne, the prehistoric world heritage site and home to Newgrange, Knowth, and Dowth, three 5,000 year old passage tombs.
We found a small B&B with a restaurant only to find they had just closed up after serving their guests. We were still in the shoulder season and a lot of establishments seemed to have limited hours.
As we were about to try our luck elsewhere, they kindly decided to reopen for us and served us a wonderful Full Irish Breakfast complete with eggs, beans, sausage, toast and a grilled tomato. Man did that hit the spot! After last night's dinner and this morning's breakfast, I knew my palette was in for a treat.
Arriving at Brú na Bóinne was met with clouds and rain, it was March in Ireland after all. After touring the museum on site which held displays revealing a ton more history going back 5,000 years, we purchased our tickets and then hopped on a shuttle bus that took us to the three sites.
The most impressive and most well known of them is NewGrange. We waited our turn to go inside in a light drizzle of rain as they only took in a small group at a time due the limited space inside. Physically I was surprised at the size of it from the outside, but once inside they're not kidding about it being a passage tomb!
One of the fascinating aspects of NewGrange is that at dawn on the winter solstice light illuminates the spiral design at the back of the tomb. The ancient world never ceases to surprise me with the level of knowledge and engineering they had accomplished. You can read more about it here http://www.worldheritageireland.ie/bru-na-boinne/.
We continued our journey West toward Galway where along the way we came across the small town of Delvin where we made a quick stop at a church and the first of many castles and fortresses we found during our trip.
Continuing, we drove across the countryside of central Ireland which reminded me a lot of parts of Tennessee. Eventually all of our stomachs were rumbling again and we found ourselves in the town of Moate, just a bit east of Athlone. We made a quick stop at the grand Hotel where we found nourishment and a nice pint of beer.
By sunset we were passing through Atherny and made Galway by Dusk. We arrived at our hotel for the night, the Jury Inn, located on the River Corrib just across from the Spanish Steps and Claddagh Quay. Navigating the hotel parking was a challenge as the spaces were not designed with cars in mind, let alone our small rental SUV.
Having arrived and now settled into the hotel, it was time to find some dinner. We made our way along High St. and all of the fantastic restaurants and pubs. With an early start in the morning that meant we only had a few hours to find dinner and eat.
We ended up at the Kings Head, located in one of the oldest buildings in Galway, dating back to the 1300's. Choosing a place to dine was a difficult decision as there are so many, but due to our limited time in Galway the age and history of Kings Head was our deciding factor. We are all Americans after all and do not have the plethora of truly old buildings back home.
After dinner and a few pints I reluctantly made my way back to the hotel, afterall we had a full day ahead!