November 2021 Stock Photography Earnings
Welcome to my third monthly earnings report from stock photography
Welcome to my third monthly earnings report where I go over my income from stock photography and video sales as well as share thoughts about my journey.
If you're new, I'm Joel, a photographer and filmmaker and recently started dabbling in stock photography and video to see if i can build it into a "mostly" passive income stream.
November was a disappointment!
Unlike in last month, October, where I had my best month so far, November sucked! No video sales and pretty lackluster across all the sites.
Despite my best intentions I only managed to add a few new stock images and videos to my portfolios across most of the agencies I contribute to. In November I mostly concentrated on Wirestock, where I added about 130 images to my wirestock portfolio in November.
I have been tracking the time it takes for wirestock to accept and process images and video once submitted. So far it seems to depend on how much information you provide for them. Look for my first wirestock overview article and video soon.
November's Best Stock Photography Earnings Agency – Twenty20
My Best earning stock agency was Twenty20! You know it was a bad month if Twenty20 is the best earner.
Portfolio Size 572 (+11)
Total Downloads 8 Photo
Total Earnings $5
Royalties/Revenue Per Download $ .63 average
Twenty20 was unusually low for downloads for me, I usually see closer to 18 – 20 downloads each month. It still continues to be fairly reliable to bring in a few buck each month. Beer money. Even without winning any of the weekly challenges it brought in at leat $5! Actually I only entered one challenge. As I have mentioned before it is a revenue share model and perhaps that is adding to the consistency?
Either way I thought I would highlight two of my most downloaded images on Twenty20 which not surprisingly were downloaded again in November.
Both of these images were taken on a job I produced in the big bend area of Texas a few years back. If you read my September Earnings report you would see some of the other image and more about that shoot. I'm just glad I remembered to bring my camera along! These were shot with an old beat up Tamron 70-300 from 2001, my old film days!
My Second Best Stock Photography Earnings Agency for November – SS
My second best site for November was SS (I don't want to get into any trouble but you can guess).
Portfolio Size 614 (+7) images 39 (+5) videos
Total Downloads 17
Total Earnings $4.69
Royalties/Revenue Per Download $ .28 average
Another crappy month with SS! This was the Forth WORST month I have had this year with them and second in a row. Most of my 17 downloads were subscription coming in around $.10 – .58 cents each. I did have one On demand sale for $1.96 of the Port of Seattle.
This was an older image from a trip back home to Washington State in 2009. Part of my back catalog of "still to be edited" images that I recently edited.
Here is another one from Seattle that sold in November and it was my 2nd highest at a whipping $.58. This was from 2020, right before the pandemic. Literally the week before Washington State went into lockdown.
Third Best Stock Photography Earnings Agency – Dreamstime
In third place for November is Dreamstime. I managed two sales in one month, quite the feat.
Portfolio Size 721 (+13) and 75 videos
Total Downloads 2 Photo
Total Earnings $4.42
Royalties/Revenue Per Download $2.21 average
Despite Dreamstime being one of my largest portfolios of images and videos, It is only the second month I have sold anything through them. One really nice thing about Dreamstime is you can set your images to Rights Managed RM, Royalty Free RF and even Sell the Rights. Currently I have just RF images but I am thinking about changing the bulk to RM.
This one of rowers in silhouette at sunset sold for $4.07. This was shot in Florida during one of my sunset photo safari's With a Tamron 70 -180 2.8 lens on my Sony A7III. I had focused on the sunset with this shot rather than the silhouetted rowers which is why I was surprised it sold.
This was the other one that was sold on Dreamstime. It was taken on an early morning flight from Kauai to Oahu, Hawaii. An winglet editorial image of a Southwest Airlines wing that Sold for $.35.
Honorable Mention Adobe Stock – Photography Earnings Agency
I'm handing out an Honorable Mention to Adobe Stock for November. I must be desperate this month to hand out a honorable mention for less than $5.
Portfolio Size 504 (+12) and 23 videos
Total Downloads 3 Photo
Total Earnings $2.88
Royalties/Revenue Per Download $ .96 average
No video sale this month but I did manage to get 12 images accepted.
This sold for $1.56. It is an image of Lake Tahoe Emerald bay, taken on a Road Trip from a few years ago. Sold as commercial image since the people are not recognizable. Mileage may vary on this as some stock agencies are stricter than others. If your image gets rejected as commercial than try re uploading it as an editorial.
Hey that's me! This handsome mug sold for a whopping $.99, I guess I know what I'm worth now! This was from the same road trip shot but from our stay in Sante Fe New Mexico. Also one of the few model released images I have on Adobe Stock.
[Dis]Honorable Mention EyeEm Stock Photography Earnings
Portfolio Size 815 images, 343 Partner Program
Total Downloads 3
Total Earnings $ 1.35
Royalties/Revenue Per Download $ .45 average
Another few rare sales for me on EyeEm. All three were sold on Getty Images through the partner program. The partner program is one reason I have not directly uploaded to istock/getty. I have an account with istock/Getty with maybe 12 images, but just have not made the time or hassel to upload.
It is easier to just use the EyeEm Partner program, but I know I am probably losing out on some money. Ithink they take maybe 50% of the earnings. I have been concentrating on sites that connect through my microstock.plus app allowing me to submit to multiple agencies at once. I hope to revisit Istock getty later.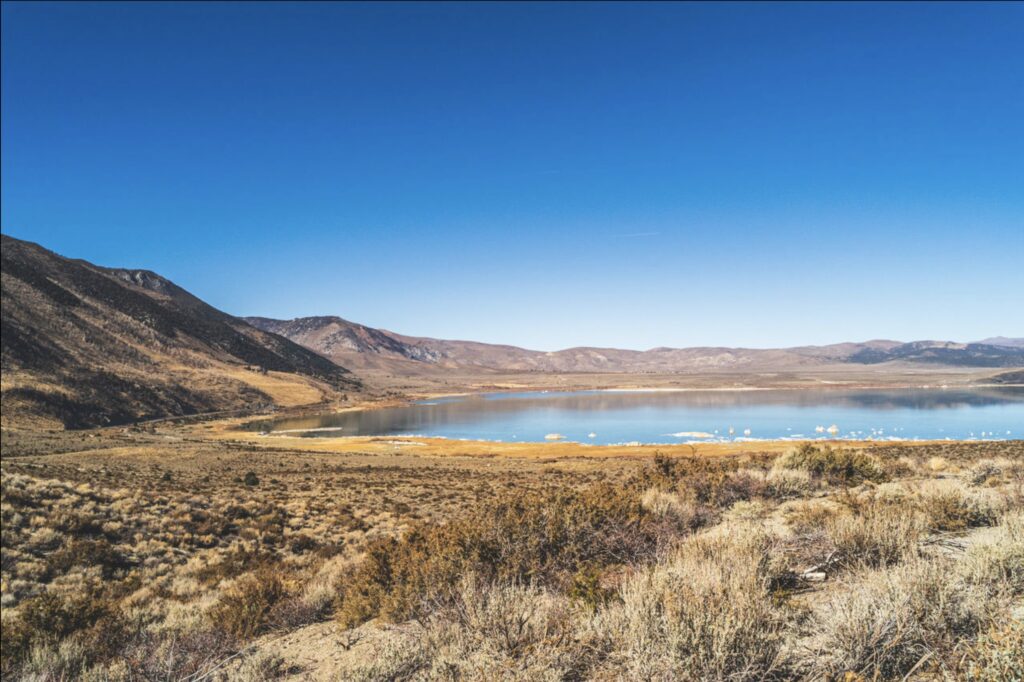 This was the best seller of the three. $ .85 for an image of Mono Lake in California. Also from that same road trip! Sensing a theme this month, which Ironically was the shame month as the road trip, weird.
November Stock Photography Earnings from All of the Other Stock Sites
8 of the other 9 sites I currently contribute images and video brought me NOTHING.
Portfolio Size Average of 469 images 34 video's
Total Downloads 1
Total Earnings $0.25
Royalties/Revenue Per Download $0.25 average
My portfolio average size increased by 22 images on average due to the 130 uploads to Wirestock. I was disappointed with only getting a single download from my other 9 agencies and platforms. Oh well on to the totals…
November Total Earnings from all Stock Photography Sites
Crappy month overall, but nice to see a few sales from Dreamstime and EyeEm.
Ruins my streak of my Earnings trending higher month over month. I did have one image sale at Pond5 returned. Whatever that means! That's a bummer.
Stock Photography Agency Alternatives
I also uploaded another 20 images to my FineartAmerica/pixel.com account although no sale to report. My current opinion of FAA is pretty worthless. I can not seem to figure out if the whole community aspect is worth the time to drive sales or if it is even necessary to participate in.
I can barely handle my YouTube channel, Instagram, Twitter and Facebook.
Final Thoughts for November Stock Photography Earnings
Focus on Video
Like I said last month I was going to not plan any more shooting sessions for this month and I did just that. Going into December I am going to keep focusing on adding more videos to my portfolios as I believe it will pay off in the long run.
Baby's got a Back Catalog
OMG my back catalog is round and juicy like Sir Mix-A-Lots muses. I am still working through my back catalog of images from years past. I have only been editing newer images as needed for articles and youtube thumbnails for my travel website and channel. Those are the images that generally are getting uploaded each month which is why it's been a paltry 10 -20 images.
I have made the decision to upload the bulk of any freshly edited back catalog images and video on Wirestock.
Model Released Images
As I have mentioned in my October Earnings Report, most of my portfolio is landscapes, wildlife and travel with some editorial images. That being said still don't have a lot of model released images, just a few of me and my wife like the one I sold this month.
I haven't spent any more time on model released images or sorting out the requirements for each agency. Perhaps that will have to be a project for he New year.
What has your experience been? Let me know.
Social Media Game
I know I need to up my social media game to self promote but that is not my strong suit. If you follow me then you may have noticed this. I promise to do better, so don't unfollow just yet. The idea being for the social media to help sell prints on my FineArtAmerica/pixels.com account. I have had some good results getting traffic to my FAA account from social media but no sales.
I Want to Hear From You
Let me know where you are in your stock photography journey in the comments. I hope this provides some insights or even some inspiration that can help you develop your own income stream with Stock Photography.
You can follow along on my socials, subscribe to my YouTube channel and check back here for more insights from my stock photography journey including income reports and more.
If you are just starting your journey then do me a favor and use my links if you found this free advice helpful. It is an easy no cost way to say thanks! Or you can also Buy me a Beer!
Cheers,
Joel